Small Business Spotlight: Baskets N Boughs
(As seen on vcnb.bank/smallbusinessspotlight)
Being a small business owner is a tough job! That's why we feature a different small business in our Small Business Spotlight every month. Today we visit Baskets N Boughs, an online store based in Ashville, Ohio.
Ask Sue Temple about her work and she practically lights up the room with her enthusiasm. Perhaps that's because her business is all about making people smile.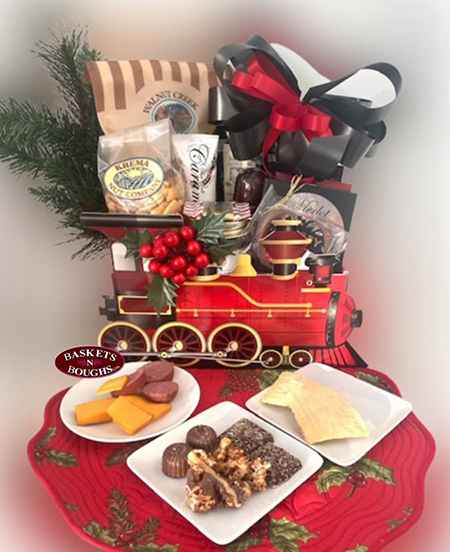 Sue operates her online business Baskets N Boughs from a private studio on her Ashville property and sends custom gift baskets near and far. She ships across the nation or even hand-delivers personal creations in her local area. "I love seeing the look on people's faces when you hand them a freshly made gift basket. They'll smile and tell you they weren't expecting anything. It feels good to know you made something especially for them," Sue said.
If you visit her website, you'll find a number of themed gift baskets to choose from but she also welcomes custom orders. Unique containers are packed with items to reflect themes for new babies, seasonal holidays, celebrations, and Ohio made products with cheeses, sausage, fruit butters, salsas, chocolates and gourmet popcorn. There's an entire category of gift baskets geared toward seniors and another for the upcoming Christmas season that provide customers opportunity to send a different kind of gift. "Instead of sending traditional flowers for a sympathy gift, why not send a basket of fresh fruit and snacks with your message?" Sue suggested.
"Sometimes people will have something very specific in mind. I did a basket with an elephant theme once. It had a stuffed elephant, onesies, little blankets and things for bath time," she recalled. "Another popular basket is a farmhouse gift basket which includes fruit crisps, cobblers, pie fillings, jellies and fruit salsas."
She also mentioned meat and cheese trays, farmhouse baskets and soup themed ones complete with soup mixes and a soft throw.
While her personal gift business is robust, Sue said most of her orders are for corporate gift baskets. Many companies use her to create welcome gifts for new customers or employees, appreciation gifts for vendors, client referrals or promotional gift baskets for events, meetings and conferences. These baskets can be customized with professionally made tags and labels that keep the company brand and message front and center on both the container and individual item packaging.
Options are available to accommodate vegan, vegetarian, sugar free, paleo and keto diets. However, she is unable to provide alcoholic beverages. Prices range from about $30 up to $300 allowing room for gift giving at any budget.
Sue takes pride in the quality of her gift baskets and encourages customers to compare hers with the mass produced gift baskets found in stores. "A lot of times, when you buy these gift baskets in a big store, you're really getting a lot of filler, a lot of cardboard and just one or two things. I try to keep my baskets full of items that are fresh and good - not fillers."
Sue pointed out that an online storefront helps to keep overhead lower. This allows her to pass on savings to her customers. As a woman-owned small business, Sue said that she hopes consumers will remember to shop local when possible. She started the business as a part time venture in 2005 but has operated full time since 2014.
What is the secret to her success? Part of it may simply be that she enjoys her work. "It can be challenging but I enjoy it. Not everyone gets to have fun with their job but I say that if you get to work, you may as well enjoy doing it. My slogan is 'If you ask it, we will basket,' and I mean that. We will do almost anything you ask!"
What's more is the sense of pride she feels toward her business. "I think it boils down to having pride in what you do. I put out a good product and I am proud of it," she said. "Every day is a good day to be kind to someone else. I just make it a little easier for people and businesses to do just that!"
Shop Baskets N Boughs online at www.basketsnboughs.com. Customer Service can be reached Monday – Friday 9 a.m. to 5 p.m. and Saturday 9 a.m. to Noon by calling 740.983.0111. As the busy holiday season approaches, Sue reminds customers that same day delivery options will be very limited.